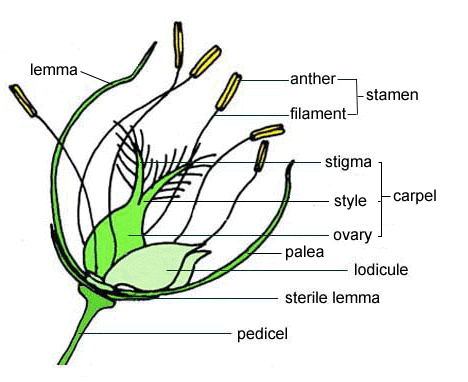 ---
  The rice "flower" is called a SPIKELET. The floral organs are what's inside the lemma and the palea.  A spikelet consists of all parts in the above figure.
---

  Stamen
There are 6 stamens in each rice flower.
Each stamen is composed of an anther and a filament.
An anther includes 4 elongated sacs where pollen grains are stored.
The filament is a long, thin stem that holds the anther.  The vascular bundles in the filament transport nutrients and water to the anther.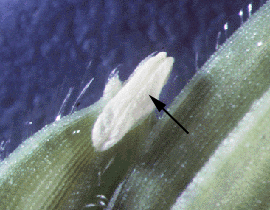 This is an anther after the pollen grains inside are released.

Here are some pictures of pollen grains.
---

     Carpel
       
The carpel consists of the female parts of the rice flower--the Stigma, the style ,and the ovary. 
The stigma receives pollen grains, which will then be transported into the ovary, where fertilization occurs.
                      Here are some wonderful pictures of the carpel
 
---

     Lodicule
 
On a rainy day, or when the temperature is too low or too high ,the lodicules shrink , causing the spikelet to close.
When the floral parts mature, the lodicules will swell and open the spikelet to expose the mature floral parts.
---

     Lemma and Palea
These are hardened, modified stems that protect the floral organs.
The lemma is relatively larger than the palea.
When the spikelet is closed, the lemma partly encloses the palea.
The pointed end on top of the lemma is called an awn.
---

     Sterile lemma
 
The sterile lemmas are much smaller in size than the lemma, and they do not bear flower, hence their name "sterile".
---

     Pedicel
 
A pedicel branches from every node on the secondary rachis and a flower is produced on top of it.

 
 



Introduction | Flowers&Fruit | Roots | Stems | Leaves
---
© Thomas L. Rost 1997
Section of Plant Biology
Division of Biological Sciences
UNIVERSITY OF CALIFORNIA, DAVIS