Fertilization procees in rice plants can be divided into five steps, which are illustrated below.
    For more detail of  Flowering or Flower Developmemt >>>
---
---
Diagram of Carpel, where Fertilization occurs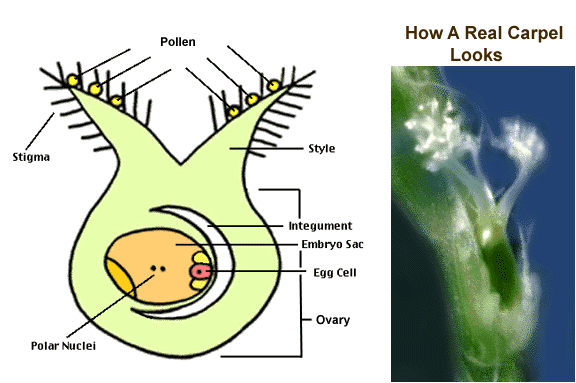 ---
---
Fertilization Process
1. Pollination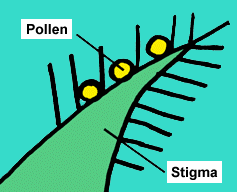 Pollination takes place immediately before the anthesis. Anthers elevate by elongating the stamen filaments, and untimately they go out the spikelet during anthesis.

When anthers touch stigma, some pollen are left on the stigma.

The stigma can receive pollen also during the flowering, when the spikelet opens.

 

 
2. Pollen Germination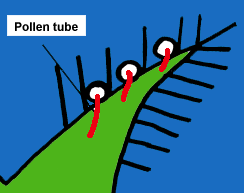 Within 2 to 3 minutes, the pollen left on stigma starts to germinate, to grow pollen tube toward the egg cell.
Pollen tubes are the pathways for sperm to reach the egg.
3. Penetration of PollenTube into the Ovule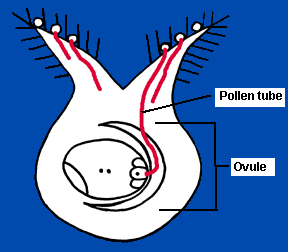 The pollen tube reaches the ovule.
It happens within 15-60 minuts after the pollen tube starts growing.
4. Fertilization
The rice plant carries out double fertilization as many other higher plants do.
Double Fertization
Step 1: Fertilization of the Egg
Step 2: Fertilization of the Polar Nuclei in the Embryo Sac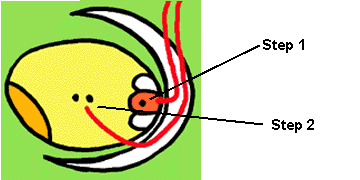 5. Division of the Fertilized Egg (Zygote)
Fertilization is completed.
In the following morning, the fertilized egg begins cell division to develop into an embryo.
An embryo is a baby of the plant, which is kept dormant in the seed until the right condition for germination comes.
 

 

How does the seed, the grain, develop?

Go to the   next !

 

 

Introduction | Flowers&Fruit | Roots | Stems | Leaves
---
© Thomas L. Rost 1997
Section of Plant Biology
Division of Biological Sciences
UNIVERSITY OF CALIFORNIA, DAVIS