Developmental Stages of the Cotton Fruit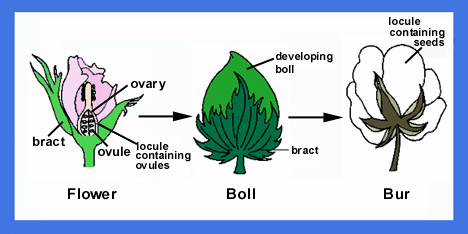 The development of the fruit, also called the boll is a complex process. Environmental and genetic signals cause a series of interrelated events which lead to the formation of the fruit. In a generalized developmental life cycle the flower would remain open for one day. The flower petals are white when they open and during these few hours self pollination usually occurs. By the next day the flowers begin to wither and may turn reddish to purple. The fertilized ovules, which are housed in locules found in the ovary of the flower, begin to develop and expand. However, not all of the ovules will be fertilized and may remain in fruit as motes. If the majority of ovules are unfertilzed the fruit will abscise from the plant within ten days. The fertilization event also triggers the ovary wall, also call the pericarp, to differentiate into three layers. These layers, starting from the inside out, are the endocarp, the mesocarp, and the exocarp. As the seeds and fibers mature, the boll expands. The fibers are located on the seed coat. When the seed and fiber development is complete the boll splits. The locks, which contain 8-12 seeds, are pushed out. The open dried boll, which holds the fibers and seeds, is also called the bur. These locks are harvested and then processed.




Back to the main fruit page...

To see a photographic sequence of cotton fruit development from the flower stage to immature fruit stage...

To see a photographic sequence of cotton boll opening...